BEH vets keep updated on the latest developments in Reproductive Medicine, regularly attending continual professional development courses in this area.
We offer artificial insemination (AI) with both chilled and frozen semen as well as setting up mares as "walk-ons" to other studs for service. We manage most AI mares on a "walk in" basis, where once they are in season they are brought to the clinic and scanned as necessary to determine the optimum time for insemination. They return home once all procedures are completed. These services are typically charged out as packages, so that the mare receives as many scans as she may require, although individual 'fee for service' scans are also available.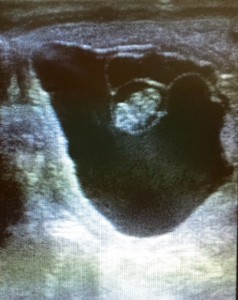 Placental scans are available for those mares with a history of placentitis. Mares deemed high risk due to other pre-existing conditions are also able to have their pregnancies closely monitored. Twin pregnancies can be manually reduced with ultrasound guidance.
At the hospital we offer a full investigation into problem breeders including swabs, uterine biopsy and thorough scanning and examination of the reproductive tract. We also have a range of pre- and post- breeding treatments that can be carried out at the clinic for more difficult mares.
Specialist surgical procedures on the reproductive tract (e.g. rectovaginal fistula repair and ovariectomy) can be carried out by arrangement.